Sinai


Mount Catherine is the highest summit in Sinai, where on a clear day it is possible to see the whole of Sinai. St. Catherine who was tortured and beheaded for her Christian beliefs, lends her name to Sinai's centre of religious tourism. A Sinai monk once had a vision of her body at the top of a nearby mountain, where her remains were discovered.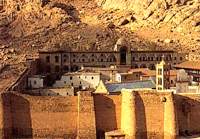 St. Catherine's monastery
The Monastery of St. Catherine is one of the best known monasteries in the world - a Greek Orthodox holy place connected with the Prophet Moses and the exodus of the Jews from Egypt. The Monastery is famous for its Byzantine-style basilica, which was built together with its protective walls in 527 A.D. The basilica has three naves, and its dazzlingly ornate interior contains works of art spanning fifteen centuries. Among the more distinctive pieces are the many lamps which hang from the ceiling in a silvery, glittering constellation, and the impressive mosaics. Lying next to the main alter is a sarcophagus which allegedly holds the remains of St. Catherine herself.
The buildings inside the monastery are crowded together, each a different shape and size. They are made up of mazes of small courtyards, staircases, galleries and narrow corridors, vaulted arcades and rounded arches. Adjacent to the monastery are the bell tower and minaret of the mosque.

Beyond the walls on the northwest side, the gardens of the monastery are surrounded by cypress trees and include grapevines and orchards of lemons, oranges, olives, pears and apricots.
The monastery is also famous for its Library, which by any standard is extraordinary. It contains the largest collection of Christian manuscripts and icons outside of the Vatican Museum. In 1844, a German scholar visiting the library discovered -- and then arguably stole -- the Codex Sinaiticus, an extremely important 4th- century version of the Bible that now rests in the British Museum. Similar incidents throughout the years have forced the monastery to allow access only to visitors who have obtained written permission from the Archbishop of Cairo.
St Catherine's is still a functioning monastery, and visitors can view the chapel as well as an amazing collection of icons. Above all St. Catherine's is a spectacular natural setting for priceless works of art.
The route to the top is on foot, and the best time to go is between October and May. For a comfortable journey you will need sneakers, a bottle of water and some candy. As the journey takes place during the night, when it gets very cold, you will need a jumper or a heavy jacket apart from a flash light.