Sinai



Shady palm-lined beaches, Mediterranean waves and the glowing colours of Bedouin crafts.

The capital of North Sinai, El Arish is situated on the Mediterranean coast, 214 miles East of Cairo. It is noted for its beautiful palm-shaded beaches. The coast here is also a paradise for windsurfers.

The Sinai Museum in town offers a fascinating insight into Bedouin life, with displays of handicrafts, utensils and clothing. The town also hosts a Bedouin market every Thursday morning.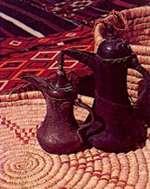 Bedouin Crafts