Sinai - land of discovery. The route to the Promised Land; where Isis sought Osiris and the Pharaohs found gold. Where Moses witnessed the Burning Bush and Bedouins camped by Crusader forts. A meeting point for three great religions, at the crossroads of Africa and Asia.
Fiord, Sinai
After 8,000 years at the heart of history, experience the continuing contrasts. Sinai: where rock meets coral reef and the desert stops at the sea. Where the grandeur of granite meets the golden beaches of the "Red Sea Riviera". Of tropical fish and rare birds; spectacular sunsets and clear starry nights.

One of the few remaining places on earth almost untouched by modern civilization, Sinai "the Land of Turquoise", is a rocky triangle of holy places, pilgrim trails and military outposts. Modern visitors follow in the footsteps of legendary gods and goddesses, ancient warriors and biblical heroes.
Sinai remains a land of verdant oases, flat desert expanses and towering granite mountains, where the Goddess Isis came in search or Osiris; where Alexander the great fought; where Moses received the Ten Commandments; and through which the Holy Family travelled en route to Egypt.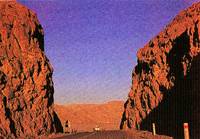 Road between rocks