Sinai

Mount Sinai in the South, rises to 2,285mtr. It is the place where God is believed to have revealed the Ten Commandments to Moses. That, at least, is the overwhelming belief, that has drawn pilgrims for over a thousand years.

Although no archaeological evidence of Moses' presence on the mountain exists, there are abundant relics of faith which have accumulated throughout the eons. Ancient chapels and structures honouring various saints and the Virgin Mary appear all along the main route, called Sikket Saydna Musa ("The Path of Moses"). These include a stone-hewn arch where, long ago, a monk once sat to hear the confession of the pilgrims.

Nearing the summit, one encounters the natural amphitheatre where the 70 wise men waited while God spoke with Moses. Finally at the top is a small chapel and mosque.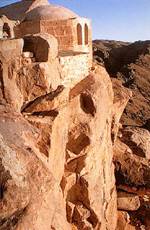 Moses Mount