Oases


Ancient and modern civilisations have always found an ideal environment in the Nile Valley, with its fertile land and its rhythm of annual inundations. Along the Nile there is a stratification of thousands of years of human occupation, from Prehistory down to the present day, including famous pharaonic monuments which annually attract masses of tourists from all over the world.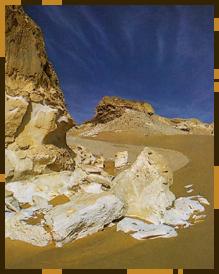 This does not mean, however, that Egypt is confined to the Nile Valley. The country (and the historical events) also include the mountainous area which stretches between the Valley and the Red Sea, called the Eastern Desert, and the vast land west of the Valley to the border with Libya, called the Western (or Libyan) Desert. Although the Valley is certainly the most inhabited and largest fertile area of Egypt, it would be a mistake to consider the Eastern and Western Desert as desolate and inhospitable lands. The Western Desert, in particular, contains large depressions where the emerging water has created a number of oases of various sizes. Nowadays some of them have been turned into vast cultivations. Apart from these green areas, there is more life in the desert than many people would expect, either human, animal or vegetal. ­ This life is simply of a different kind - less striking because since it is more subdued to the dominant nature.

The Egyptian Western Desert includes areas which differ considerably one from the other. Rock desert, flat plateau, fertile depressions, chains of dunes, and down at the "triple" point between Egypt, Libya and Sudan, large mountains create different types of desert landscape each with its own inhabitants. The only area where life is virtually absent is the so-called Great Sand Sea, the largest and most dangerous dune field of the world, able to swallow and cancel anything which crosses its path.
In the more hospitable areas of the desert, the Bedouins have always led a nomadic life, moving from spring to spring with their light tents and livestock, hardly leaving any trace. The scarce emerging water also supports a large number of animal species, including insects, mice, hedgehogs, cats, foxes and gazelles. The latter are extremely difficult to spot, but fennec foxes seem to materialise almost anywhere at night to check if a desert camp might have brought anything interesting - from a gastronomical point of view.
The large depressions where the ground is close to the water table contain the five major oases of the Western Desert namely: Siwa, Bahariya, Farafra, Dakhla, Kharga, plus the Fayum, which is the closest to the Nile Valley. Recently Farafra, Dakhla and Kharga have joined into one province, called the New Valley, and ambitious plans have been laid down to increase the water supply and improve the agriculture of the whole area.
From an archaeological point of view, the oases provide evidence of human occupation since prehistoric times, when huge lakes occupied most of the depressions. The pharaonic period is attested in a very uneven way, while recent excavations are adding a lot to our knowledge of the Late Period and the Roman rule. Christian and Islamic remains are also present. Also taking into account the beautiful landscape and the products of the local community. As you acn see, there is a lot to attract the increasing tourists.
(Corinna Rossi)