Oases


Dakhla - The Oasis in the Old Kingdom

The old track between Farafra and Dakhla, the Darb el-Farafra, ran across an area of the desert covered by sand dunes, where driving a motor vehicle is extremely difficult. The modern road runs west of the old route and, if coming from north, offers an amazing view of the descent from the plateau into the depression of Dakhla.

Like other oases, there is evidence that Dakhla was inhabited since prehistory, but unlike all the others, here significant remains dating to the Old Kingdom have been found. The archaeological remains unearthed at 'Ayn Asil in the last twenty years suggest that this oasis must have played an important role under the VI Dynasty of the Egyptian kings. Placed at the junction between the track called Darb el-Tawil, leading directly to Middle Egypt, and the two caravan routes which via Kharga gave access to a number of tracks to Upper Egypt, 'Ayn Asil was originally a small square fortified enclosure. During the reign of Pepi II, the Governors of the oasis built a large palace and obtained the permission to erect small sanctuaries for themselves.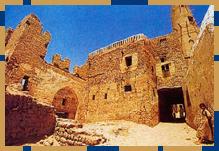 The palace was eventually destroyed by the fire, the destructive power of which has, however, helped to reconstruct some important details of the building. The floor, in fact, retained the impression of the wooden elements, such as doors or columns, that collapsed and burned on the spot. The site was abandoned after the fire, but later re-occupied during the First Intermediate Period, where a certain amount of restoration seems to have taken place.
Today, the exposed area of the palace is quite striking. Even though over 4,000 years have passed since it was built, the thick mud-brick walls, clay floors and limestone column bases still give a very good impression of what the building must have looked like. Attached to the settlement, there was a large necropolis, today called Qila el-Dabba, clearly marked by the presence of seven large mastabas, massive rectangular mud-brick superstructures that covered the tombs of the local Governors.

Several ancient cemeteries have been found in Dakhla, and it is evident that the area was occupied continuously up to the Roman rule, when the Oasis seems to have been heavily populated and intensely cultivated. Hundreds of Roman wells still survive. The most impressive remains of this period are to be found at Amheida, a large settlement half-covered by sand surrounded by an extensive necropolis.
Dakhla was originally linked with Kharga by means of two tracks, the Darb 'Ayn Amur and the Darb el-Ghubbari. The first was shorter and provided with an intermediate water station, the little oasis of 'Ayn Amur, but more difficult, since it climbed the plateau dividing the two oases, while the second was longer and without water, but easier for heavy-loaded caravans. The modern road follows more or less the direction of this track, and in fact groups of graffiti and rock inscriptions left by travellers of various periods may be seen on both sides of it. The area along this road is undergoing a significant change. Phosphate is being mined out of the northern plateau, and large settlements have been built to accommodate the people working there and their families.
(Corinna Rossi)